Healthcare Quality and Patient Safety
ABOUT…
We accompany organizations and health personnel along the path of transformation and sustainable growth.
We help organizations and the various actors in the health care system to evolve and project themselves into the future in a sustainable manner.
We address the organization performance systemically.
We work using a comprehensive approach, connecting all the variables, facilitating the creation of a new order to offer a health care service based on value.
We believe that the power of the organization lies in the strength of its purpose and the ability to deliver a unique and differential value, for the health system users and the society.
Work approach
In settings of increasing complexity, the health system, health organizations and healthcare providers suffer the disconnections that take place between the dimensions of the system itself, which affect the ability to achieve expected results, and how to continue growing.
For this reason, our work model allows us to identify these disconnections and analyze consistency at a higher level of performance, with the purpose of creating value for the users (patient, family and community as a whole).
We believe in collaboration and jointly building-up knowledge, which is why our model is open and available to anyone who wishes to use it. Whoever uses it, please make a reference to the IECS Department of Quality, Safety and Clinical Management as source.
The following is a summary of our work model: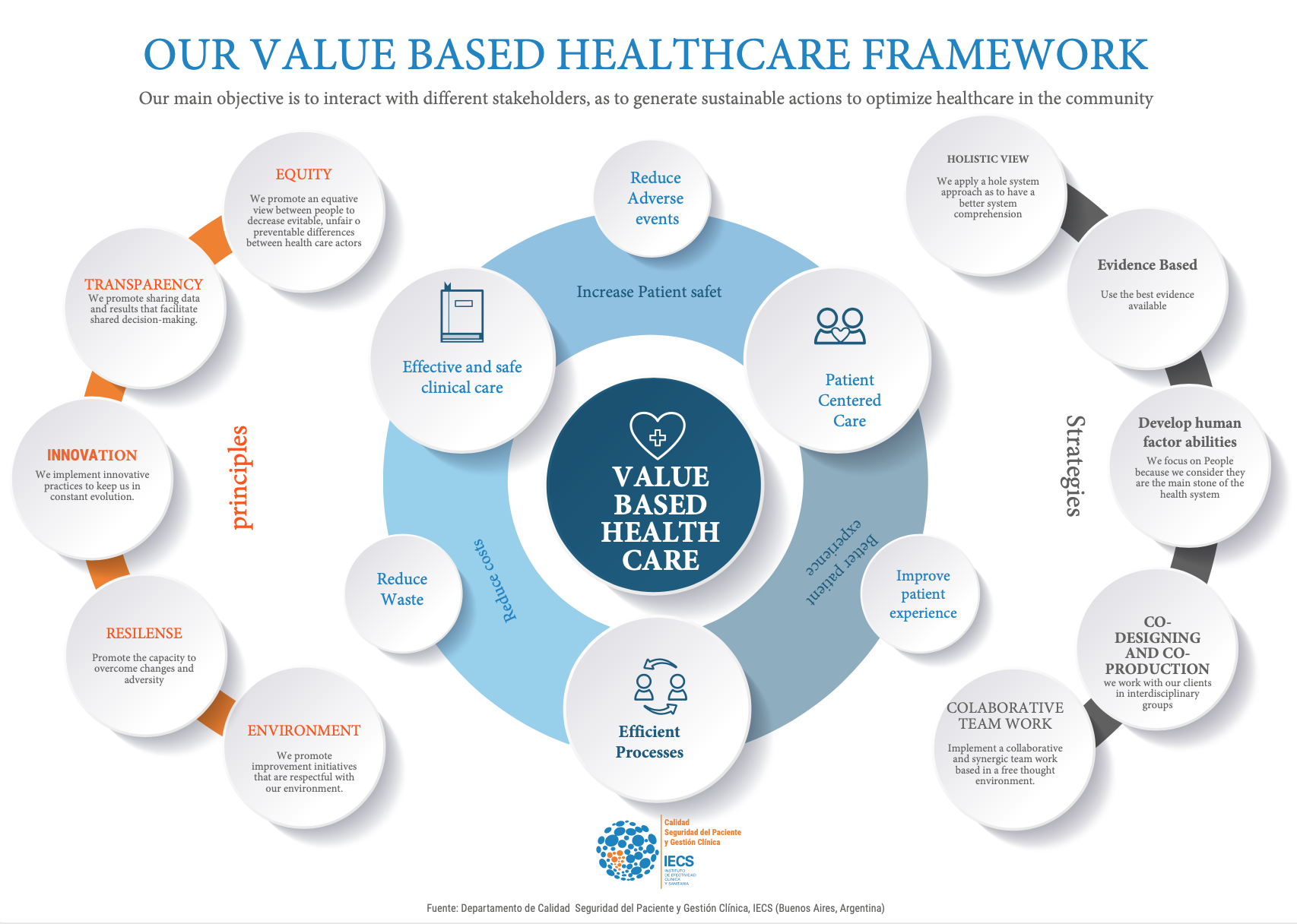 Click here for more information.
Work strategies
Our strategies to attain these goals include:
We developed different research projects at national and regional level.
Our lines of work include: change management in professional conduct, implementation of quality improvement interventions at population level, adaptation and validation of instruments to assess the patient's perspective of care, development of indicator panels to monitor care processes and evaluation of the level of quality of care in outpatient settings, among others.
We also conduct systematic reviews of subjects related to quality and patient safety, and analysis of the economic impact of the interventions associated to care quality.
Master Program:
Since 1999, we have been teaching the University of Buenos Aires (UBA), School of Medicine Master's Degree in Clinical Effectiveness.
Starting in 2014, a new curriculum has been organized which allows choosing three fields, "Clinical Management and Quality of Care in Health Organizations" being one of them. This field trains healthcare providers in management focused on process improvement, planning and designing and conducting quality of care and patient safety projects.
See more about the Master's Degree
Courses and Programs:
We developed training programs, both in person and remote, on subjects related to management and research in quality of care and patient safety; monitoring and assessments; interventions which improve the quality of care; process improvements using the Lean and Six Sigma methods and third-party assessment models (accreditation). These programs have been prepared by our own regional providers or experts who are specially summoned.
In order to put our research findings and those of others into practice, we developed technical cooperation projects with public and private organizations at national and Latin American level.
These projects include implementation and development of cultural aspects, process improvement, adverse event prevention, safe drug management, infection control, etc.
Projects that prepare for national and international certification, from baseline evaluation and document preparation, to implementation of the programs required by the evaluating institutions are included.
Also, in 2020, IECS became the PlaneTree representative for the Latin America Southern Cone region. This organization certifies and trains hospitals on person-centered care.
Information dissemination
The Department of Quality, Patient Safety and Clinical Management develops several engagement initiatives at regional and international level (See Institutional Relations) so that the interested individuals may come to us to share their experience and knowledge. The Department also remains present in forums that promote these initiatives and contributed to creating the Latin American Collaborative Forum for Quality and Safety in Healthcare Healthcare as a contact and promotion tool.
The various activities that the Department encourages include the cycle of Regional Conferences, promoting our experiences in the different provinces of our country as well as the National Conferences that cover the entire region and that have been carried out regularly since 2009.